We make your advertising
visible
!
WAS IST EIN LED- DISPLAY? 
LED Displays sind Großbildschirme mit LED. LED ist durch vielfältig verfügbare Lichtfarben und starke Lichtausbeute für fast jeden Zweck eisetzbar. Die LED Display Funktionsweise lässt sich Indoor und Outdoor gleichermaßen einsetzen.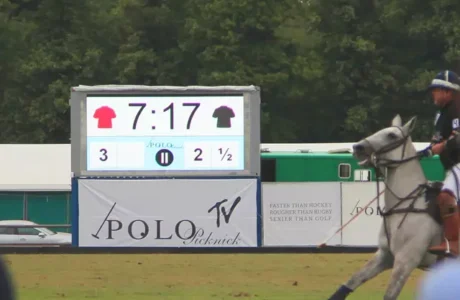 LED Display für Ihr Outdoor-Event
Outdoors, our customers use LED displays as LED advertising displays or as LED scoreboards for sports events or as signposts or mobile signage. Here, an LED display from our UltraLine can be equipped with SFP technology. In this way, the advantages of optimized fire behavior can also significantly increase safety outdoors and additionally save our customers effort and money by simplifying approval processes and making countermeasures unnecessary.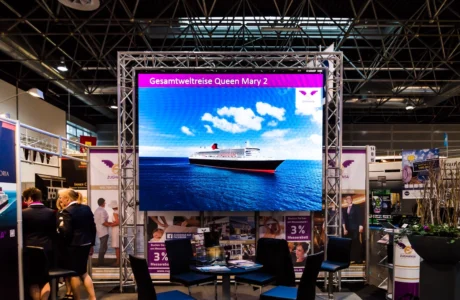 LED Display für Ihr Indoor Bereich
Indoor werden unsere LED Displays in Schaufenstern, im Handel, an Flughäfen, auf Messen und in vielen weiteren Feldern der Veranstaltungstechnik verwendet. In Innenräumen empfehlen wir LED Displays unserer LuxLine. LED ist an sich schon besonders energieeffizient. Aber wir haben mit unserer LuxLine einen absoluten Vorreiter in Sachen Energysafing in unserem Portfolio. Die LuxLine ist durch die Verwendung der Common Cathode Technologie besonders hell. Sie spart daher indoor bei Nutzung  bis zu 1.000 NIT Energiekosten. So gehört sie zu den sparsamsten LED-Displays am Markt und ist in vielen verschiedenen Größen verfügbar.
Our solution for a mobile outdoor LED display is the Smart Green Guide. The Smart Screen Guide is a digital LED communication and guidance system that can be easily used as an outdoor medium due to its product-specific hardware and software concept.
Der 4,125 m² große Led Display, integriert in eine mobile Transportbox, ist speziell für den Outdoor-Einsatz konzipiert und entspricht den aktuellen hohen technischen Ansprüchen für diese Anwendung.
Whether as a traffic and parking guidance system at trade fairs and festivals or as an indicator for safety and/or behavioral information at other events. The Smart Green Guide is mobile and can be positioned everywhere. In addition, you can insert advertising messages as a refinancing option and present them on the Led Display.
You want to buy a LED display?
We will gladly advise you!
You want to buy a LED display?
We will gladly advise you!
Dann können Sie mit SCREEN EXPERTS als Full Service Anbieter alle Schritte gemeinsam gehen. Wir übernehmen Beratung und Planung, helfen bei Fragen der Statik und der Genehmigungsprozesse rund um Ihren LED Display. Wir bauen auf und weisen ein, liefern Soft-und -Hardware und
kümmern uns um die Wartung und Instandhaltung Ihres LED Displays.  Mit Playern, kombinierten Playern & LED Controllern oder cloudbasierten Lösungen statten wir sie gerne aus.
As one of the exceptions in the market, we offer 5 years guarantee as bring-in service according to our guarantee policy on our products. In addition, you can optionally obtain a warranty on the availability of certain spare parts of up to 10 years. For all other parts extensive guarantee extensions can be ordered and concluded.